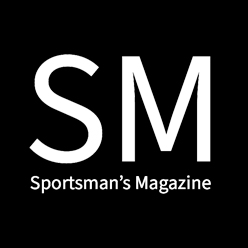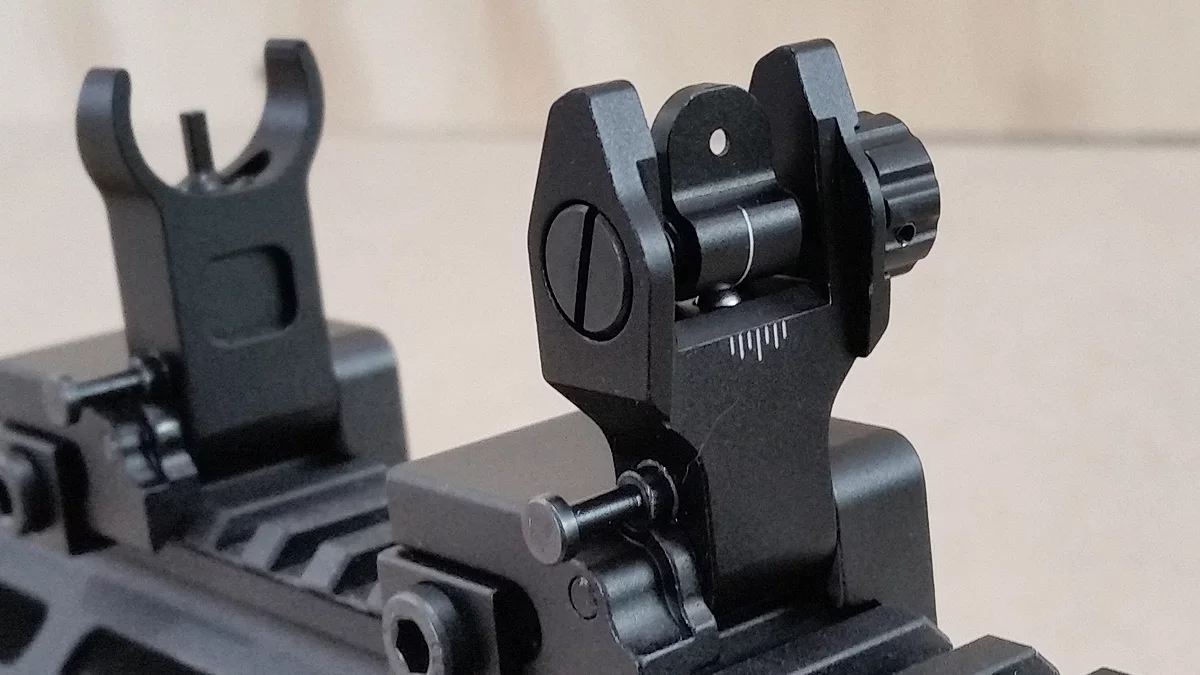 Type
|
Flip Up Sights BUIS
Range
|
CQB or Long Range
Dimensions
|
35mm x 45mm (height) x 30mm
Weight
|
1.5 oz (Front) 35mm x 40mm (height) x 27mm
Weight
|
1.8 oz (Rear)
Color
|
Black Finish
Material
|
Aluminum
Mounting
|
Picatinny / Weaver Rails
Price
|
$27.99
Pros
Very Affordable
Decent Machining
Absolute Co-Witnesses with .83 inch riser
Mounts Tightly
Decent Finish
Cons
Play in the Upright Position
Lack of Confidence for Long Range Targets(du to play)
No Rail lugs, Just a Screw
We ordered Feyachi flip up sights off of , because they are one of the cheapest backup sights on the market today, at $27.99. The sights came in a nice plastic case that included an Allen key, which was a pretty nice touch for sub thirty dollar backup sights, but are Feyachi flip up sights any good?
Initial Thoughts
Straight out of the package, the Feyachi flip up sights look good. The sights seem to be machined well and rotated up with gentle pressure. The push pin to unlock and rotate the sights back down functioned fine also.
We mounted the flip up sights to the Picatinny rail on an AR-15. While they clamped to the rail securely, they rely on mounting pressure to prevent play. Unlike other more high-end iron sights, they do not have a lug to eliminate any possible movement.
When we mounted the Feyachi sights, they did absolutely co-witness with a Bushnell TRS-25 red dot sight, on a .83″ riser.
The Feyachi sights are a little crude. While they function, they are definitely cheap sights for very tight budgets or SHTF situations. In the elevated position, both the front and rear sight are able to wiggle 3/16" before the locking pin prevented further movement. The machining or parts tolerances must be fairly loose, or maybe that's just what should be expected from sub thirty dollar sights.
While the play might be acceptable for QCB, or close-range plinking, hunting, and engagements, it's not something to rely on for accuracy over 50 yards.
Field Tests
The recoil on an AR-15, even with a fat comp compensator, was more than enough to wiggle the sights. We weren't able to put thousands, or even just hundreds of rounds, through the AR-15 with the Feyachi sights on it. However, it seems unlikely that they will perfectly hold zero given their ability to move whilst in the upright position, and the obvious loose tolerances.
The Feyachi iron sight bases are also very square, and a little chunky. They are at least 1/8 of an inch wider, with rougher edges, than UTG Slim Sights. While it doesn't matter so much up front, on the rear of an AR-15 platform, the wider rough features, like the Allen bolt head, occasionally snagged on a glove on the way to the charging handle latch.
Depending on how you rack your AR-15, you may want a latch extension anyway. But if you have to worry about snagging on the base of a flip up sight, you will really want to consider a latch extension.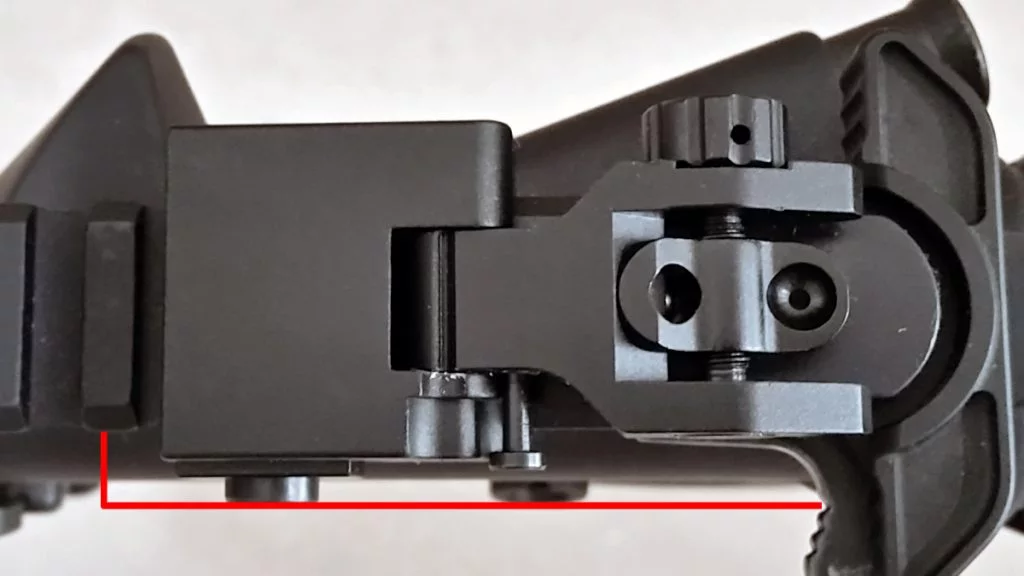 Conclusion
If you are on a tight budget, and looking for home defense or a SHTF BUIS, then the Feyachi flip up sights will work. Spending another $30 on a pair of UTG fixed sights would be a much better option.
Feyachi really should focus on machining and parts tolerances to make their flip up sights better. They have a little ways to go before we'd trust their sights for big game hunting or a home defense weapon.
The Feyachi flip up sights we used for testing, are going on a backcountry 1322 air gun, and will not live on an AR-15. They aren't even close to being a candidate for replacing the Fixed UTG slim sights that currently live on our test AR-15 platform, but will suffice for close range air gun, or air soft gun.
Tags: buis, feyachi, flip up sights
Comments