Leather Axe Sheath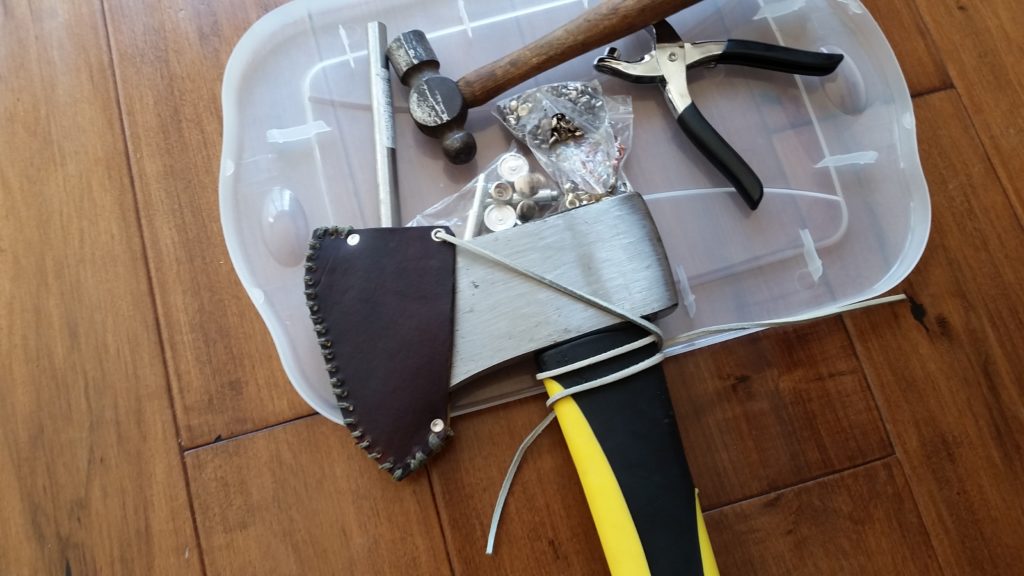 Photo Credit: Keith Knoxsville
I sharpened my axe, and made a leather axe sheath to protect the edge. Its not the finest work I've ever done, but it was really for utility. I'm moving into a small wood stove heated mountain home for at least the next year, and I need to play catch up on getting some cords of fire wood stacked before winter.
I made the leather axe sheath from some heavy cow leather I had in my leather scraps bin. I simply traced the axe edge onto the leather, and then over-sized my cuts to leave space for stitching, rivets, and an eyelet. I drilled out some holes on the drill press, which is much easier than using an awl, and then stitched up the edges with a semi-decorative looking stitch. I used a hole punch for the rivets and eyelets instead of a drill, because of the hole diameter. I set the rivets with a hammer, and the eyelets with a grommet/eyelet setting tool like this cheap one on amazon. It gets the job done, but better ones definitely exists.
I waxed the finished leather axe sheath with SC Johnson Wax. Although for pure utility almost any wax would work to help bead off some water if applied alright.
Tags: axe sheath, leather
Comments