Eberlestock F1 Mainframe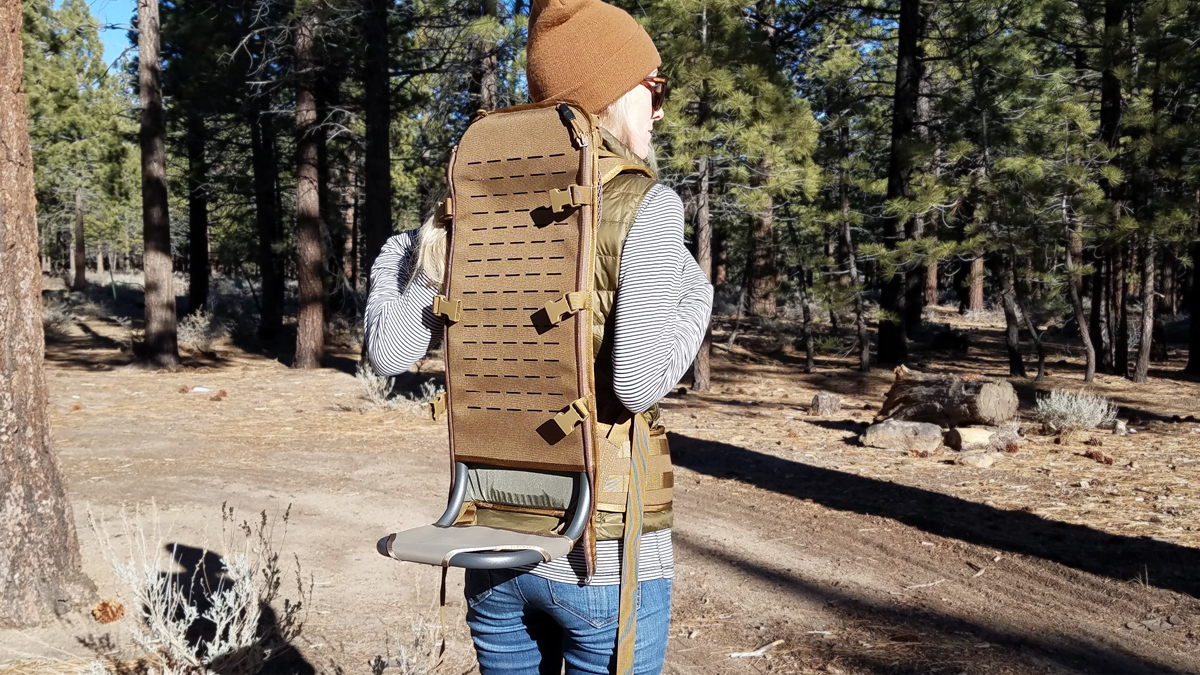 Photo Credit: Keith Knoxsville
Color
|
7 Colors and Patterns
Material
|
Aluminum, Nylon
Features
|
Adjustable Harness,MOLLE on Waist Belt,Full MOLLE Main Panel
Pockets
|
N/A
Closures
|
Buckles, YKK Zippers
Fit
|
Adjustable
Size
|
Regular 26"h x 11"w, Tall 29.5" x 11"w
Weight
|
Regular 4 lbs 5 oz, Tall 4 lbs 8 oz
Country of Origin
|
Vietnam
Warranty
|
Lifetime
Price
|
$249 - $279
We bought an Eberlestock F1 Mainframe while Eberlestock was running a 15% discount, so we could do a review on it. But to be completely honest, we also just wanted one to add to the gear room for heavy pack-outs, and multiday camping and hunting trips. We use, and previously reviewed, both the Eberlestock G1 Little Brother and the A4SS Tactical Weapon Carrier, so we had no doubt the F1 Mainframe would be good, but wanted to see if it would live up to Eberlestock's claim of being "The most versatile pack ever".
First Impressions
Eberlestock is no slouch when it comes to quality gear, and our first impressions are that the F1 Mainframe is solid, rugged, and quality. The F1 was designed and built to hold a lot of weight. It's even been tested to hold over 700 pounds of weight, so it has to be well made. A strong tubular Intex II aluminum frame is the backbone of the frame pack. It's also unclear whether it is anodized, powder-coated, or painted, but it seems to add to the durability and abrasion resistance, and perhaps also the strength of the aluminum frame.
The materials are all very rugged. The F1 utilizes heavy rip-stop type materials with heavy stitching and reinforcement in high-stress areas. The back panel is a cut panel with a 16 x 5 matrix of MOLLE attachment slots, and three large horizontal webbing straps with 1.5″ buckles help to secure almost any payload. The frame pack also incorporates large and rugged YKK zippers to directly attach accessories like Eberlestock's bat wings, and run the entire vertical length of the back on each side. An entire line of lightweight Vapor bags turn the F1 Mainframe, into a multiday or expeditionary pack, by adding between 2500 and 7500 cubic inches of volume with frontal zipper access, and roll-top access.
The Mainframe is offered in regular or tall, and 7 different colors and patterns are designed to work cohesively with other Eberlsetock products. We purchased a regular-sized coyote color frame to match our other Eberlsetock gear, while it was on sale for 15% off the regular $249 retail price.
In The Field
The ideal pack or frame is adjustable, fits well, and distributes weight across the shoulders and waist, without rubbing, and without creating excessive pressure points or hot spots. The F1 Mainframe excels at the task of comfort, fitment, adjustability, and proper weight distribution. The adjustable harness can comfortably fit smaller framed individuals down to around a 34″ chest and with an adjustable harness ladder system, accommodates a range of torso lengths. The waist belt will comfortably fit a 28 inch waist, with an additional 2 inches of adjustability on each belt loop, meaning it can probably accommodate waists as small as 24 inches.
The excess webbing on the belt loop also tucks back into the tunnel it runs through, so you have no webbing flopping around your waist. This is unlike the First Tactical Tactix Waist Belt we used on an Eberlestock G1 Little Brother, which utilizes a "pull forward" design, and leaves a lot of excess webbing hanging for those with smaller waists. The padding and mesh materials of the shoulder harness, back, and waist belt included with the F1 Mainframe are also much nicer than the First Tactical Tactix. At about the same price point, Eberlestock's waist belt is a clear winner in a head-to-head competition with the First Tactical Tactix.
Just like many of their packs, the Mainframe includes a padded carry handle at the top of the pack, behind the neck. It is large enough to make lifting and moving the frame easy, but small enough to never rub against your neck.
Setting up the F1 Mainframe is fairly straightforward, only complicated in a minor way by the versatility and mounting options. We stripped the waist belt and shoulder harness off of a G1 Little Brother, and attached the Little Brother to the F1 Mainframe along with an A4SS weapon scabbard.
Securing everything with compression webbing and buckles was an easy task, and took less than two minutes. The options for how to secure gear are plentiful, so we opted for the way that seemed to make the most sense to us, which was to attach the A4SS Weapon carrier through the scabbard tunnel of the G1 Little Brother, then secure the G1 Little Brother to the Mainframe with the matching compression clips.
We further tested out the F1 by carrying various weights and loads over different distances, with different combinations of bags and weapon carriers.
The Mainframe, when loaded properly with a well-balanced payload, makes it possible to carry some really heavy loads and maintain a decent level of comfort. While we certainly don't recommend it, you can even carry a person on it. Our Sportsman's Magazine team member Ben, carried his wife around a bit to prove the point, hence the featured video snippet.
Conclussion
Eberlestock calls the F1 Mainframe "The Most Versatile Pack Ever". If we had to say whether the Mainframe is the most versatile pack ever, we'd have to disagree, but only over nomenclature. We wouldn't consider it a pack just because it has shoulder straps and a harness. Although, we would call it an external frame, or pack frame, and only have accolades for it.
If we were to rework Eberlestock's marketing slogan for the F1 Mainframe we'd call it "The Best, Most Versatile External Pack Frame Ever". The regular size F1 Mainframe is worth every bit of 249 dollars and is an incredible value when purchased on sale for anything less.
Comments