Mathews V3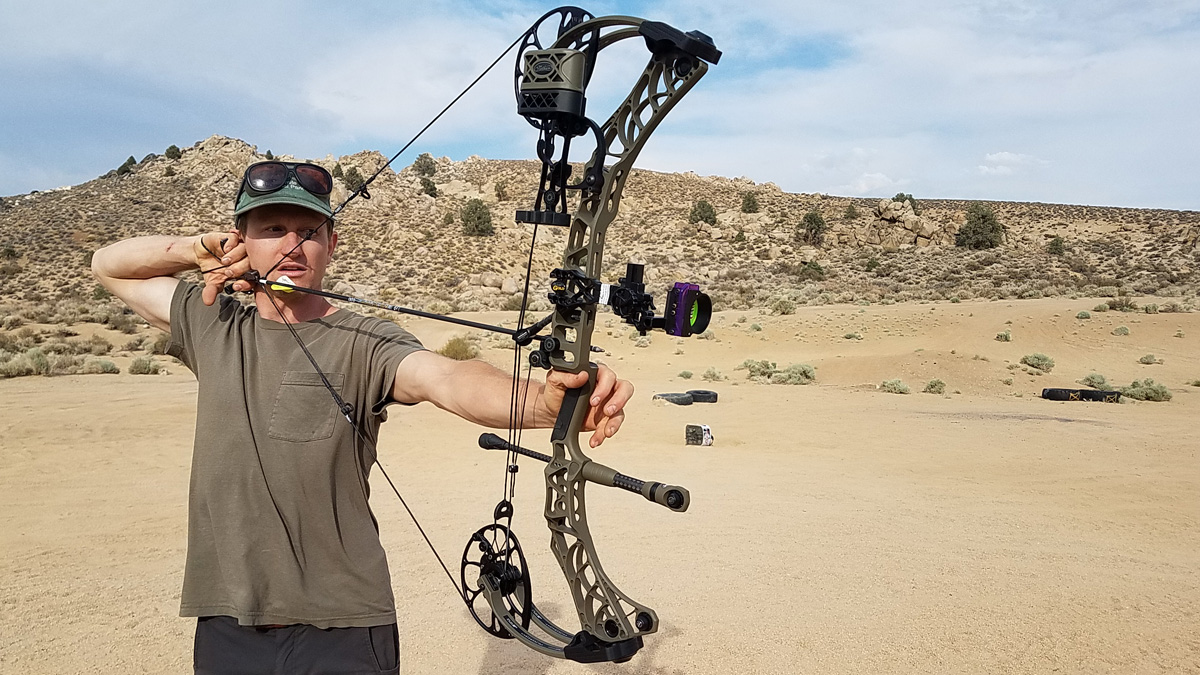 Photo Credit: Keith Knoxsville
Cams
|
Double
Draw Length
|
26-30.5 inches
Axle to Axle Length
|
31 inches
Brace Height
|
6 inches
Draw Weights
|
60, 65, 70, 75
Let Off
|
80% 0r 85%
Bare Bow Weight
|
4.5lbs
IBO
|
342 FPS
String
|
Zebra Trophy
Color
|
Green Ambush
Features
|
Centerguard cable containment, 3D dampening
Warranty
|
Lifetime, contact Mathews for details
Country of Origin
|
USA
Price
|
$1199
Mathews has long been known as one of the premier bow builders in the industry. Each year, archers eagerly await the announcement of their new flagship models. Building off the success of the beloved VXR, the new for 2021, V3 will not disappoint. Offered in 27″ and 31″ axle to axle lengths, the Mathews V3 was designed with accuracy and stealth in mind. Sporting new features such as centerguard cable containment and a new noise and vibration dampening system, this bow will meet the needs of even the most demanding shooters.
First Impressions
Just by picking this bow up, you can tell you're working with quality. With an excellent hand-feel and an extremely polished finish, it's exactly what you would expect from Mathews' flagship bow. We purchased the V3 31" in ambush green and couldn't be happier with the look. Based primarily in California's Eastern Sierra and the western slope of Colorado, the matte green is perfect for everything from sage country to the high alpine.
We enjoy the hand feel of the stock grip, but you do have the option of removing the shaped grip and adding side-plates, at an additional cost, that make the grip flat and flush with the machined sides.
We decided to leave on the stock string and cables and after releasing hundreds of arrows, have yet to have an issue with them.
In The Field
When we took our first shots while trying this bow at our local pro shop, we immediately noticed how dead in the hand it is. There is virtually no in-hand vibration and has as quiet of a release as we've ever encountered. Built into the bottom of the riser, the new Nano 740 harmonic stabilizer is meant to reduce noise and vibration and as far as we can tell, it does exactly what it claims.
The other new technology included on this model is the centerguard cable containment system. What this means is that during the draw cycle, the angle of the cables are equalized, which in theory optimizes your cam timing and makes it easier to keep your cam timing in tune. Practically speaking, the draw cycle on the V3 is buttery smooth. With no lurch and a hard back wall, we don't really have anything to complain about.
While just going out and buying a premium bow isn't going to instantly give you tighter groups, you really don't have to worry about outshooting the V3. Whether you're shooting at a target or an animal, a properly tuned V3, paired with the right arrow setup, will give you every opportunity to take the best shots you're capable of.
We paired our bow with a Mathews Ultrarest HDX (built by QAD). The V3 has a built-in dovetail to accept their proprietary rests, which makes for a clean and easy set-up. For a sight, we chose the Black Gold Ascent Verdict 5 pin and opted for a Mathews 6.
With western spot and stalk hunting as our primary use for this bow, we felt that the 31″ vs the 27″ wouldn't be a hindrance as we spend very little time in a tree stand or ground blind. So far, this has proven to be true as we've spent time hunting small game in sage country.
Sighting in our bow took minimal effort once all the componentry was installed. After changing up our initial arrow set up to increase the FOC, resighting the bow to our new arrow weight took just a few turns of our dial to correct for some expected vertical drop. As we get ready for elk season, we've started broadhead tuning and have found that our field points and broadheads are grouping together right out the gate.
Conclusion
The Mathews V3 is no doubt one of the best bows on the market right now. Whether or not you prefer this bow to other companies' flagship models will largely come down to minor preferences. We'd suggest going and shooting the Hoyt Ventum or the PSE EVO to see how other premium models compare.
Overall this bow is incredibly quiet and easy to shoot. There is almost no vibration or hand shock when shooting. Easy to tune and forgiving when shooting broadheads, we have almost nothing bad to say about the new Mathews V3. Whether you're after whitetail or elk, this bow will be the last thing you are worrying about when it's time to fill your tag.
Tags: Archery, Compound Bows, Mathews
Comments