Sportsman's Magazine Fishing Report (SMFR)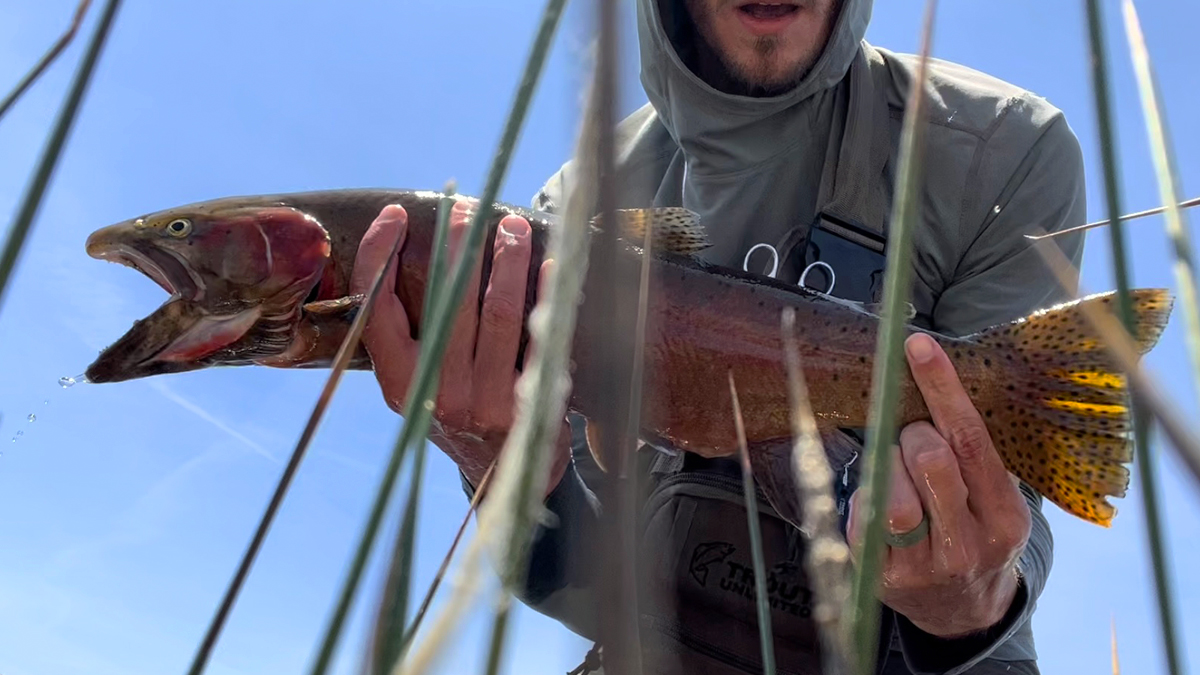 Photo Credit: Keith Knoxsville
Spring fishing is heating up in the Eastern Sierra, and if you want to have a great Memorial Day weekend catching trout, come prepared! The cutthroats are on the tail end of their spawning run up the Upper Owens River from Crowley Lake, so your patterns are going to matter.
The cutthroats are actively running and spawning, creating an abundance of roe in the water. Just like you'd want to match a hatch, your best bet to catch a cutthroat right now is to offer them a salmon egg pattern.
We spent a few days running with the fish up and down the river, throwing a variety of wet flies and trying to figure out the most effective presentation. Nymphing may not be many people's preferred style of fishing, but is the most effective method when targeting large fish during a spawning run. At the end of the day, we ended up pulling in a few nice fish.
When you get out there, it might be worth trying what we did to find some success, so be sure to use a setup including an indicator and some split shot. We had the most luck by using an indicator high on the leader, moving it frequently to match the water depth of the run you're casting into, and using a worm pattern or salmon egg pattern above a salmon egg pattern tied on with about 24 inches of tippet. Attaching split shot halfway between flies was effective at giving the lower salmon egg a realistic presentation, allowing it to bounce around along the river bed. We had the most luck with peach and pink-colored patterns.
Work on your presentation so that you run a fly right into the face of the fish you are targeting. There was a short window each day when fish were aggressively feeding, but most of the time we had to make it as easy as possible for the fish to see, then take, the fly. The water is very clear in many places, so be careful not to spook the fish.
It is best to dedicate most of a day if you're specifically targeting cutthroat, as the fish will behave differently as weather conditions change. In the three days that we spent on the Upper Owens, the fish were most active at a different time each day. Always be prepared to face high winds when fishing the Eastern Sierra.
As always, it is important to be aware of local fishing regulations. We fished the section of the Upper Owens above Benton Crossing, which is artificial lures, barbless, catch and release only. Fish are sensitive during a spawn, so give plenty of time to revive them after a hard fight and try to take them out of the water for as little time as possible before releasing.
Recommended gear:
5 or 6 wt rod and reel – perfect for casting along this smaller river
4x tippet – 5x may work, but can break if you hook a hog
Polarized sunglasses – Suncloud is a quality, affordable brand
Sun protection (there is no shade along the Upper Owens River) – my Mountain Hardwear Crater Lake Hoody is perfect for all my summer hobbies in the Eastern Sierra
Good luck out there!
Tags: eastern sierra, fishing, owens river, report, upper owens
Comments