Choosing The Best AR15 Handguards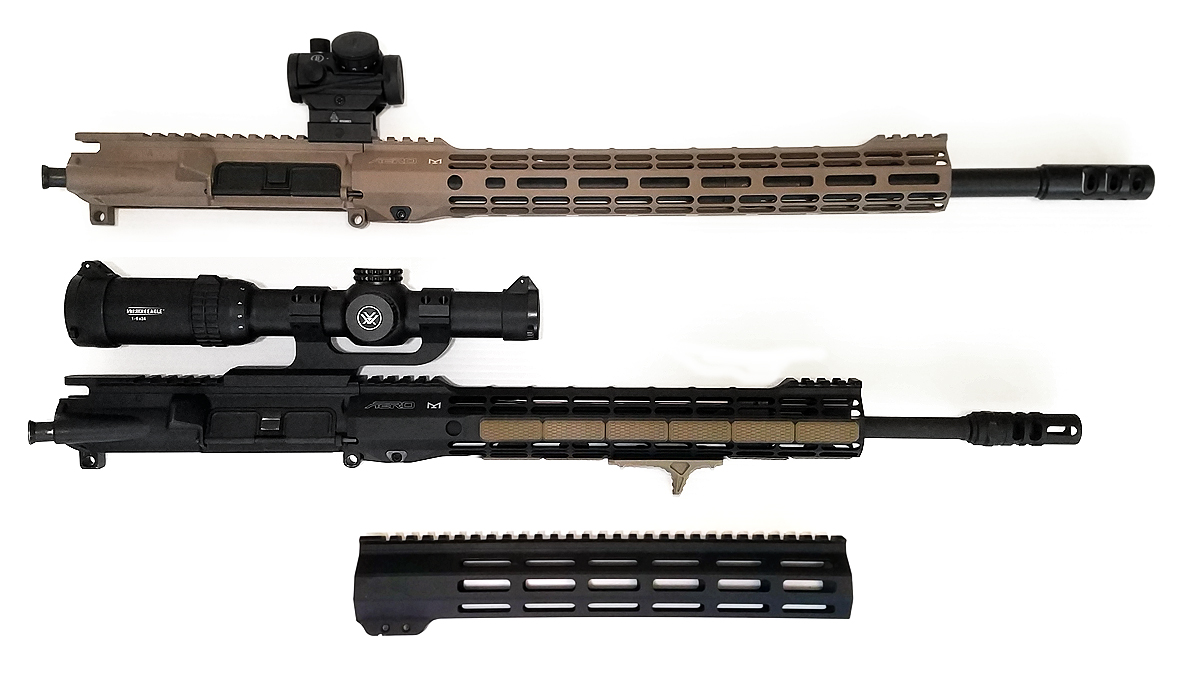 Photo Credit: Keith Knoxsville
There are a lot of choices when it comes to handguards for your AR15 or AR10. Whether it is a first build and educational, or purpose-built for home defense, run-and-gun, or predator hunting, there is a good option for you. Your choices for an AR15 handguard distill down to use case, whether or not you want a drop-in vs free-float, a KeyMod vs M-LOK attachment system, weight, and some stylistic and ergonomic preferences.
We are biased in our opinions, as we use our modern sporting arms for sport. We primarily hunt with them, take them to the range, and they have a place in our homes for self-defense. So we aren't as worried about weapon lights, canted or co-witnessed backup iron sights, and all the tactical weapon lasers, beams, light switches, and optic accessories as others might be.
We instead focus on an ergonomic and lightweight handguard, that allows for the attachment of a bipod, hand-stop, the bare minimum of iron sights or optics, and preferably something we can C-grip. A few other things we prefer that a handguard should have, that we'll touch on later, are a good mounting system, and an anti-rotation system.
Lastly, we don't think a handguard should leave you too broke to afford ammo, so we try to focus on value as we evaluate some good options. If your ultra-premium and ultra-expensive handguard doesn't get a mention here, it's because we just didn't see it as a good value, it didn't meet our needs, or it's not on our radar. Let's get started.
Free-Float vs Drop-In
Drop-in handguards fit under pressure between the A2 front sight and the delta ring assembly on a traditional AR-style rifle, whereas a free-float handguard mounts securely to the barrel nut, and applies no pressure to the barrel or gas block.
Traditional style drop-ins have little to no attachment points. Even the options that do, pale in comparison to what's available on a free-float handguard. Some manufacturers, like Troy and Magpul are certainly challenging the idea, by providing quad rails or M-LOK systems to drop-ins, like the Magpul MOE M-LOK Polymer Handguard. However, they are limited by the length of the gas system. A free-float handguard also makes for an inherently more accurate rifle, as the barrel will not deflect while the handguard is under pressure, something that even premium drop-ins can't eliminate.
In our opinion, drop-in handguards are antiquated, good for retro-style rifle builds, or those who are unwilling to change out an A2 style sight. A Free-float handguard is the better option, especially for the modern sportsman because they are more accurate, provide better protection in the field, and they also allow for a longer sight radius. As such, we'll only focus on free-float options for the rest of the article.
KeyMod vs M-LOK
If you learn anything about the AR15 or AR10 rifle platform, it'll probably be that the community is full of fanboyism and brand whores. The fanboys don't stop at brand either. The loyalties, whether deserved or undeserved, extend to the accessory attachment systems of handguards.
While the M-Lok system proved to be superior to the KeyMod system, in USSOCOM tests, KeyMod still has an intense cult-like following. We personally don't care what you prefer, if it works for you. Fortunately, many handguard manufacturers produce the same handguards in both M-Lok and KeyMod versions, so the attachment system isn't necessarily a limiting consideration. However, if you aren't using an M-Lok system, it may just be time.
Rail Design
The major differences in handguards are in rail design. The majority of handguards are produced from an octagonal aluminum extrusion, designed to clear the gas block and provide protection to your barrel from deflection caused by a firm grip, rest, or bipod. With a couple of unique exceptions to the rule, every handguard will utilize a mounting rail that runs the full length of the guard, is split so no rail runs the center portion, has rails on all four sides(quad), or is a hybrid incorporating a number of different combinations of rails, lengths, and locations.
Full Rail
Most standard free float handguards incorporate a full-length Picatinny top rail, and then the options diverge into two directions from there.
Split Rail
One direction is the Split Rail, which lightens up the handguard by removing the majority of the Picatinny rail, only leaving a section of rail at the ends where sights and optics are most commonly mounted. The split rail design makes for an ergonomic, lightweight, and slim handguard. It also happens to be a favorite type of handguard at Sportsman's Magazine, and we use them on many of our uppers. Some of our favorite split rail options that we can confidently recommend are the Aero Precision Atlas S-One and the STNGR USA VLCN.
Quad Rail
The opposite direction from the more minimalist split rail, is the Quad Rail, which adds 3 full-length rails, at the 3, 6, and 9 o'clock positions. The quad rail gives the operator a lot of attachment points, without the need for M-Lok rail sections. Unfortunately, it also decreases the slim profile and ergonomics in hand, while increasing weight.
Ergonomic rail covers, or tactical gloves, can make gripping a quad rail less of a hand shredder, but also add a tiny bit more weight. Covering rail sections to dedicate to hand position, begs the question of why it needed a rail in those locations in the first place. Your mileage may vary, and perhaps you need those rails, so while we don't care for a quad rail, it may be good for you. Just consider your application, the weight you'll gain, and the ergonomics you'll lose. Also, consider that you can always add rails to an M-Lok system, but you can't remove rails from a quad rail.
Hybrid Rails
Hybrid designs typically include a small section of rail on the bottom of the handguard, that functions to add a bipod or other Picatinny accessory. Sometimes, manufacturers will add short side rail sections toward the front-end, in the 3 and 9 o'clock positions, for the convenient attachment of lights, lasers, or other accessories. The permutations are simply too vast to talk about, and many of the great options available, are essentially a hybrid of some sort.
Other Considerations
There are a couple of other considerations to make when deciding on a handguard: the mounting or locking system, anti-rotation tabs, and quick detach locations. The typical mounting system essentially clamps the guard onto the barrel nut, causing an ever-so-slight deformation to the handguard. Better systems use a lug to secure the handguard and prevent any movement or loosening whatsoever.
A good handguard, shouldn't ever rotate once secured, but the best guarantee is to choose a handguard with anti-rotation mounts. Lastly, while this isn't a deal-breaker, integrated QD mounts are a great feature to have. You can certainly add QD mounts or other sling mounts to an M-Lok system or rail, but integrated QD mounts add a lot of convenience.
There are two reasonably affordable options that tick all or most of the boxes, that we can confidently recommend. They also happen to rank at the top of PEW PEW Tactical's favorites, albeit flipped for first and second place.
First, is the Aero Precision Atlas S-One. It provides anti-rotation, the best locking mechanism in the industry, multiple Quick Detach points, plenty of M-Lok locations, it allows you to get an ergonomic C-grip, and it's lightweight. The Atlas S-One is not as cheap as a generic handguard, but it's worth every penny, especially when Aero Precision runs a sale. For those that prefer a full top rail, Aero also sells the Atlas R-One.
The runner-up option for us is the STNGR USA VLCN. It checks all the boxes, for us, minus the superior locking mechanism used by Aero Precision.
Tags: AR15, handguards, MSR
Comments