Elk Ridge Trek Knife Set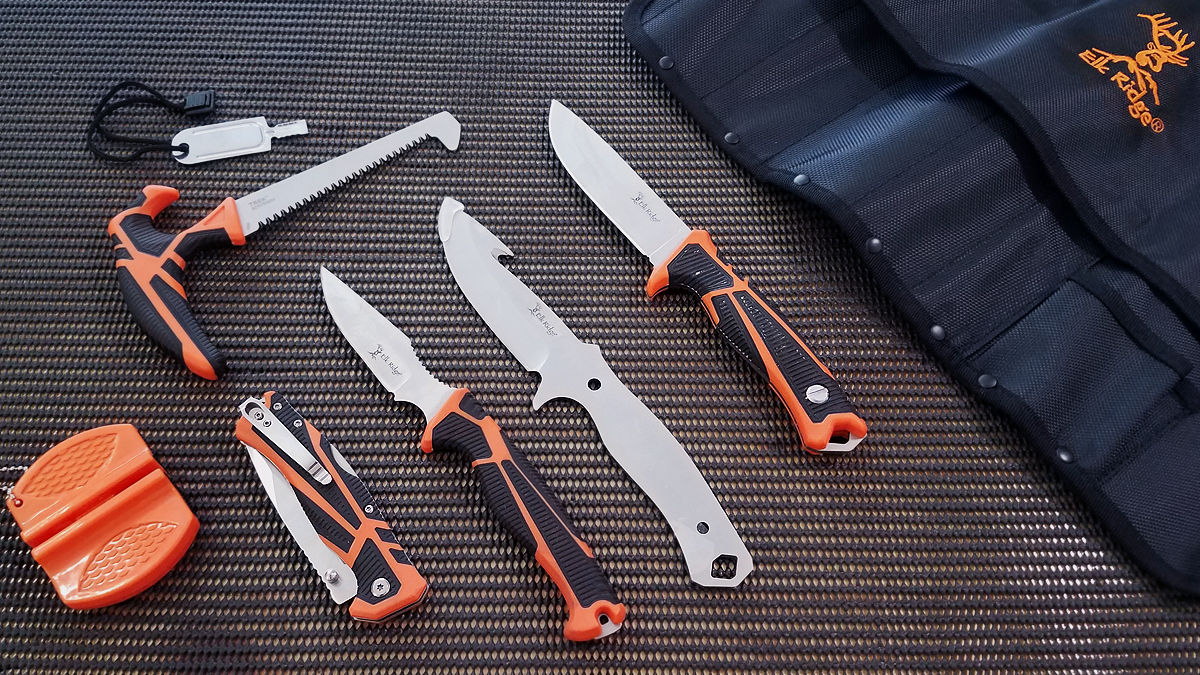 Photo Credit: Keith Knoxsville
We had an opportunity to review Elk Ridge's Trek 8 Piece Knife Set, and at a great time of the year too. We put them to use on a deer and an antelope this year, and this is what we think of them a few weeks later.
When Sharper Edges reached out to us to do a gear review on a few of their knives, we didn't exactly get super excited. Our previous experiences with Elk Ridge products have been with an overly large survival-style knife, and a machete, both of which were gifts and too large and heavy to ever consider taking into the field. Although, while the bowie-style blade never felt like the highest quality implement, it has split hundreds if not thousands of pieces of kindling over the years for a wood-burning stove, and it has even been used as a scrape for hide tanning more than a few times. The machete has also been pretty useful around our 4-acre farmstead, helping clear brush, when pulling out the brush hog seems like overkill. So with those considerations, we decided to keep an open mind and take a look at some of the knives Elk Ridge has to offer.
We suggested to Sharper Edges that the Trek system of knives would be pretty useful to us in our hunting pursuits at Sportsman's Magazine, and the 8 piece Trek knife set would be interesting to evaluate. They agreed and sent us the knife set to review.
Evaluating the Trek Knife Set
When the Trek knife set arrived, we quickly unboxed it, unsure of the level of quality to expect. Overall, we were pleasantly surprised. Fit and finish were all better than what we imagined they would be, and they all felt pretty good in hand. The injection molded ABS, incorporates a rubberized overmolded texture where it matters, so you won't lose grip when covered in blood, which we put to the test. This is a very complete field dressing knife set, which includes a large drop point, caping blade, folding drop point, 5 inch saw, soft case, and accessories to keep things sharp.
Specifications of the included knives are below – all knives incorporate the injection molded nylon, with rubber overmolding.
Fixed Blade Drop Point and Gut Hook (replaceable full tang) – Total Length: 9.50″ | Blade Length: 4.50″
Caping Blade (full tang) – Total Length: 9.00″ | Blade Length: 4.000″
Folding Drop Point – Total Length: 8.25″ | Blade Length: 3.50″ | Back Lock
Bone Saw – Total Length: 7.5″ | Blade Length: 5.00″
We can remove some of the subjectivity about the quality of the knife blade with some actual research and data. The Trek Knives use an 8CR13MOV steel alloy, which is a similar metal to the Japanese AUS 8, but with a higher Rockwell Hardness rating of 62 versus the AUS rating of 59. It belongs to the CR13 series of steel, which is high in Carbon and Chromium. It's actually a steel that has been made very popular by Spyderco's 'Tenacious' knife. Those knives are well-liked and command somewhat of a premium price that I chalk up to marketing and fanboyism because the quality and materials seem to be on par with the Trek knives we handled for this review.
Our team members that handled each of the knives in the field enjoyed using them. When covered in blood, these knives were much nicer to hold onto than the really rigid and slick plastic on Havalon knives, and the large fixed point with a thick full tang allowed us to confidently pop tendons and free ball joints. – The kind of work that can break blades on replaceable blade systems, and leave a surgically sharp hazard in the critter that you are working on.
In the field, the caping knife does its job, but by the nature of its design, it is just less ergonomic than other knives, and so it got limited use, that is until my wife used it in the kitchen to help break down quarters. It seemed to do well in smaller, more delicate hands, on precision jobs.
We also didn't use the saw, we rarely use them in general, so it was no surprise that nobody gravitated toward using it for anything. If you are the type that uses a saw to field process, then it is a good option that provides a firm grip with its ergonomic handle design, but I can't really see packing this with me on longer trips.
Everybody has a preference when it comes to blades, some folks are hardcore fixed blade types, some folks live for an excuse to whip out a folder from one of their many pants pockets. Personally, I've always been a fixed blade guy, but the ergonomic, simple, and useful Trek folding knife, and the positive experience we had with it in the field, has driven me to carry it on me when I am in the garage, shop, or the field. At a minimu it gets packed into a convenient pocket on my pack system, or tossed into the brain alongside a fixed blade.
Final Thoughts
Were more than satisfied with the performance of these knives, and in particular, got good use out of everything but the saw, and though the smaller fixed blade wasn't the most ergonomic for some, it proved very useful for others with smaller hands-on precision work.
Elk Ridge provided a knife sharpener with two sides, one for getting an edge back and the other for honing the edge. It's nice for field use, but we generally carry a small stone for sharpening anyway, and when we are able, we generally take knives to the bench grinder for more major re-sharpening. With that said, the 8CR13MOV steel that Elk Ridge is using strikes a good balance of edge retention between sharpening, without being overly difficult to sharpen.
Context and a correct perspective matter. Elk Ridge Trek series knives are a utility type of field dressing knife, and not a timeless heirloom somebody passes down from generation to generation. They are well made, ergonomic, very reasonably priced, and do what they are intended to do. So if you had some less-than-great impressions of Elk Ridge knives in the past, like we might have had, it may be time for you to revisit what they have to offer, and improve your field dressing kit.
Is the Elk Ridge Trek 8 Piece Hunting Knife Set Good To Go?
After spending a few weeks butchering both a deer and an antelope with the Trek knife set, we feel good about recommending these knives to the fellow hunter. So before you go out and buy some gimmicky as seen on TV knife as a gift this holiday season or impulse buy a knife from the local sporting goods shop at the checkout stand, take a look at the Trek Knife set, or just a couple of the Trek knives in the set that we thought were most useful, the large drop point and the folding drop point.
Other Recommendations
We have always used and generally recommended Havalon knives for their flexibility and packability in the field, but the biggest drawback to one of the replaceable blade systems is that the blades are flimsy, and the rigid plastic on those knives can get slick when wet. They also need replacement in the field when dressing a large animal, and so you also need to carry pliers. What we can definitely say, is that you will always benefit from carrying a sturdy fixed or folding blade in addition to a replaceable blade system, for popping joints and breaking big tendonsin the field.
Tags: field processing, gear review, hunting knife
Comments