Snugpak Compression Stuff Sack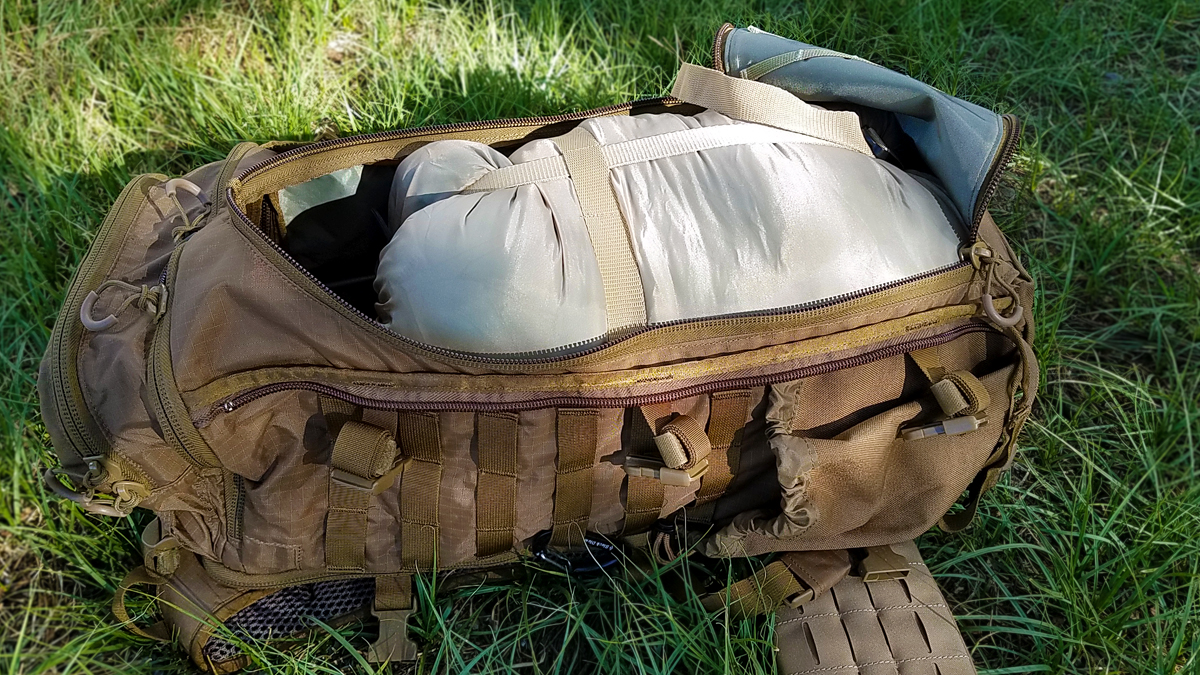 Photo Credit: Keith Knoxsville
Size
|
XL
Dimensions
|
20.25 L x 8.75 D inches
Color
|
Desert Tan
Country of Origin
|
UK
Warranty
|
Limited 12 Month
Price
|
$24.95
We gave the XL Snugpak compression stuff sack a try, in an attempt to slim down a large synthetic OF degree North Face sleeping bag, and reclaim pack space.
Our first impressions of the Snugpak compression stuff sack were very positive. The lightweight nylon material looked durable for the weight, and the included webbing looked typical for the industry. The stitching looked satisfactory, but could probably benefit from more reinforcing stitch patterns.
Opening a pack and flashing bright colors, or securing a brightly colored sack onto the outside of your pack is a sure way to ruin your stealthiness in the field. The desert tan color was a fairly light shade of brown, and a great choice for backcountry hunting or tactical operations.
The North Face Eco Trail Synthetic 0F sleeping bag we used to test the Snugpak compression stuff sack, is a bulky sleeping bag that doesn't compress very much. It's not a backpacking option for most, given its bulkiness, but being able to compress the bag at least 30% would significantly increase the usable space inside a large pack, or make it more viable to attach to the outside.
We stuffed the North Face sleeping bag into the stuff sack, closed the drawstring, and started to pull the 1 inch compression straps evenly. The sleeping bag ultimately compressed to about about one two thirds of the XL stuff sacks uncompressed size.
The XL Snugpak compression stuff sack exceeded our compression expectations, providing more compression than we had expected on a bulky synthetic bag. The extra large size is ideal for large bags, and the desert tan color makes it a great choice for backpack hunting.
Our only criticism is that it could have used a heavier denier nylon and a stronger stitch pattern, to make it more durable. Only time will tell if the stitching gives, or tearing starts to occur on the thin material. Like all of our Sportsman's Magazine gear reviews we will post any relevant updates, as the compression sack gets more use.
Pro Tip: Never leave sleeping bags stored in a compressed state for longer than you have to, they will lose their loft, as well as their effectiveness at keeping you warm.
Tags: compression sack, Snugpak
Comments