Wolf and Grizzly Grill and Fire Safe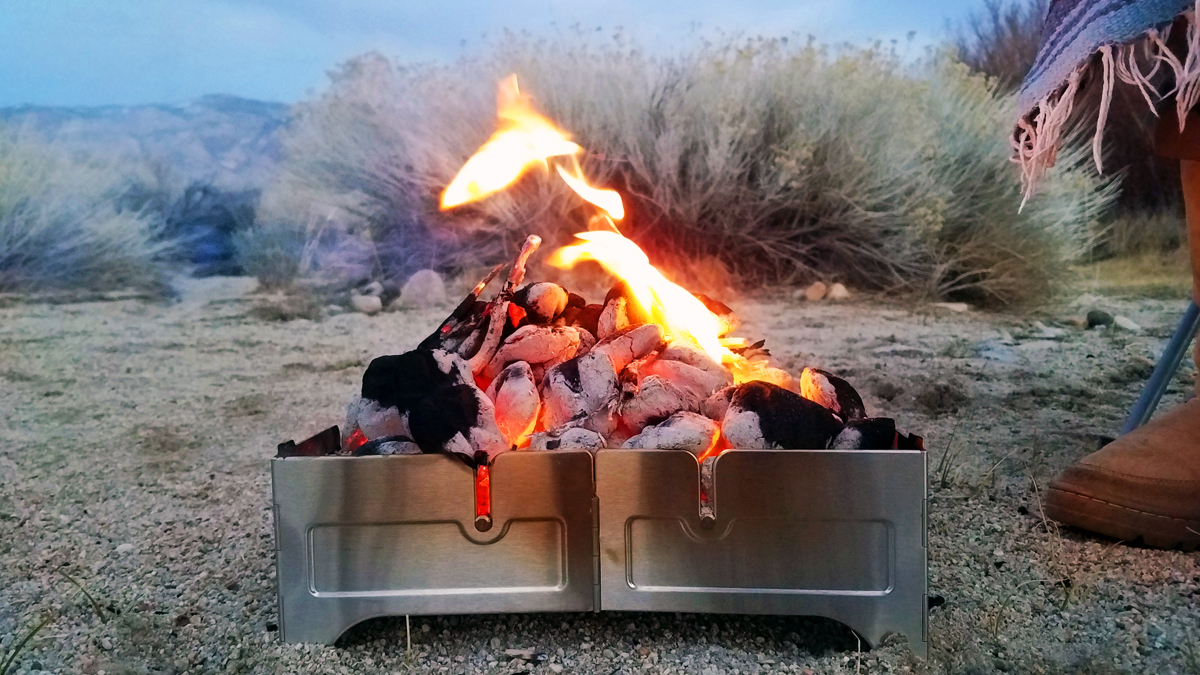 Photo Credit: Keith Knoxsville
Color
|
Stainless
Material
|
Stainless Steel
Brand
|
WOLF and GRIZZLY
Length
|
11.26
Width
|
10.94
Height
|
4.13
Weight
|
1.1 Kilograms
Fuel Type
|
Wood
Country of Origin
|
China
Warranty
|
3 Year
Price
|
$89.85
The Wolf and Grizzly Fire Safe
We had been toying with the idea of doing a series of firepit and backcountry stove reviews for a while. So many people seem to be venturing into hot tenting, or just looking for portable fireboxes and cook systems to set up while backpacking and overlanding. So it was a timely coincidence when Wolf and Grizzly reached out to our team to ask if we were interested in reviewing the Wolf and Grizzly Fire Safe and Grill. We said we'd love to.
Fire Safe First Impressions
The W&G Fire Safe came in a surprisingly compact package. It's a two piece design, with a frame and base. The frame hinges at the corners, and also in the middle of two sides, so it can go from flat to deployed in seconds. The base is essentially a six-panel accordion, that is designed to unfold, and be supported by slots in the frame.
Everything is very practically designed, taking advantage of basic geometry to create a very stable firebox. The stainless steel used to manufacture the Fire Safe is of good quality, and thin enough so that the Fire Safe remains lightweight. The parts are stamped with some contours, which is common practice in products engineered from flat stock, especially vehicles, to improve rigidity. It also happens to give the Fire Safe a nice aesthetic.
The frame elevates the base high enough that it does not touch the ground. This is a great feature that protects the surface it is on, and promotes a "leave no trace" approach to using it. We love the "leave no trace" approach to everything we do outdoors, from backpacking, climbing, car camping, to hunting, and fishing. It gets really old finding firepits anywhere somebody can access the great outdoors, and even more frustrating when you find multiple used and dirty fire pits only a few paces away from each other.
Anyway, back to the Fire Safe, it is a very practical and clever design made from quality 304 stainless steel.
Fire Safe In The Field
We assembled the Fire Safe to get our first impressions and already discussed setup, so we'll just briefly reiterate that the Fire Safe is incredibly simple to set up.
A lot of people may cringe at the idea of brightly polished stainless steel changing color with use, but that patina doesn't bother us one bit. The first time we used the grill we decided to break it in for a while and make sure any lubricants from a metal press or packaging residue baked off, even though none were observed. We were actually quite unforgiving, and started a fire with Fatwood, then proceeded to pile on charcoal. A small breeze kept the fire stoked and the heat pretty intense.
We honestly expected the stainless steel to warp or deform under the intense heat, but to our surprise, it didn't. We were all very impressed that the Fire Safe held up to the abuse so well.
The Wolf and Grizzly Fire Safe can function as a small fire pit, so we continued to use the Fire Safe after we were finished cooking on the companion grill to provide a little bit of heat as temperatures dropped. It worked better than expected down to subfreezing temperatures before we retreated to tents. We certainly got the max use out of the Fire Safe for its intended roles. You could potentially use the Fire Safe for tent camping heat if you had a vestibule big enough for it, proper ventilation, and were experienced at hot tenting, but it's not a recommendation. In fact, we'd advise against it, as it has no spark arresting protection, and could be dangerous for the inexperienced. However, it does an exceptional job containing fires big enough to cook on without scarring the landscape or footprint underneath it, and it's small and light enough to pack almost anywhere.
The Wolf and Grizzly Backpack Grill
Grill First Impressions
Much like the W&G Fire Safe, the Grill came in a compact package. However, the grill comes rolled and does not sit flush like the Fire Safe. The W&G Grill when unrolled and set up is a pretty ingenious little grilling grate and stand.
The stand accordions open and closed, and fits perfectly around the Fire Safe. The grill grate itself is constructed a little bit like a rope ladder, with small but strong wire rods creating the grill surface, held together at the ends with a stainless steel cable. A supporting structure twists open to support the span of solid wire rods.
Most ingenious is the way the grill grate attaches to the adjustable stand. 3 swage sleeves fit into the corners of the grill stand in a similar way to a brake cable on a bike or motorcycle. The 3 swage sleeves on each of the four cable ends are placed at increments that regulate the depth and width of the grill stand.
As the stand gets wider the grill height is lower over a fire, or companion Fire Safe. The opposite is also true. You can use the first set of swage sleeves, for a higher grilling height, and slightly narrower width and length on the stand.
Backpack Grill In The Field
In the field, the Backpack Grill is easy and intuitive to set up. Again as we've already stated, the design is quite clever, resulting in a very stable grilling platform. The stated weight capacity of the grill is 30lbs, and with no issues with stability, this is a very reasonable maximum loading. You obviously won't be cooking an entire dear ham straight on this grill, and it wouldn't fit if you tried.
The grill can easily handle small cast iron skillets and large roasts when car camping. However, as a backpacking grill, it's unlikely you'll be bringing a cast iron with you, and if you do, you'll likely never do it again; but the grill does support a surprising amount of weight, without wobbling.
Conclusion
There are a handful of options when it comes to portable, lightweight fire pit and grill systems. Some are cheaper and lighter, but most often, they do not have as much cooking area and are only capable of burning wood. In our experience with other similar-role lightweight stove and cooking systems, they usually leave a lot to be desired.
We think the Wolf and Grizzly Fire Safe and Backpacking Grill are both very reasonably priced for what you get, which is an effective, high-quality, portable fire pit and grill system that is light enough to be carried into the backcountry. Smaller systems like Solo Stoves offer less for a similar price, so by comparison, the Fire Safe and Grill system are a much better value, and even more versatile.
Alternatively, if you only want or need the Fire Safe for a better leave-no-trace camping experience, or you only want the grill for a very practical and portable grill system, they both individually provide a lot of value for the price.
When we first saw the Wolf and Grizzly Fire Safe and Grill, we were super interested in trying it and also a little skeptical it could handle the abuse of an intense fire. However, it has surpassed all of our expectations, and we can highly recommend it for car camping, overlanding, backpacking, raft trips, beach trips, and even cooking up lunch in the driveway. It's also a great alternative to a mini Weber, but in our opinion is even better because it cleans up nicely, and takes up no space when done.
Tags: backcountry grill, backcountry stove, fire box, fire pit
Comments