Vortex Crossfire II 2-7×32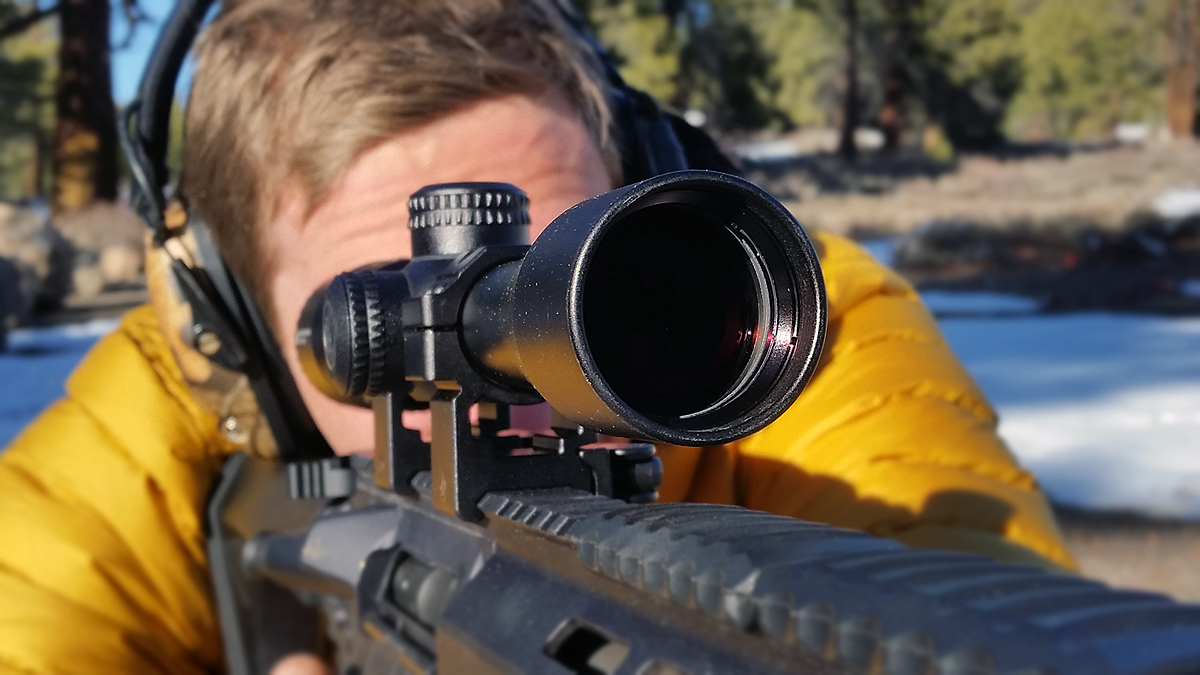 Photo Credit: Keith Knoxsville
Reticle
|
Dead Hold BDC
Objective Lens Diameter
|
32mm
Tube Size
|
1 inch
Weight
|
14.3 oz
Magnification
|
2x-7x
MOA Adjustment
|
.25 MOA
Eye Relief
|
3.9 Inches
Focal Plane
|
Second Focal Plane
Illumination
|
NA
Mount
|
None. Requires Picatinny Rings
Battery
|
NA
Battery Life
|
NA
Waterproof
|
Waterproof, Fog Proof, Nitrogen Purged
Country of Origin
|
China
Warranty
|
Unlimited, Unconditional, Lifetime
Includes
|
Plastic Lens Cover, Microfiber Lens Cloth
Price
|
$179
Vortex Crossfire II – Initial Thoughts
The Vortex Crossfire II 2-7x32 has been around for a few years now, and while it's not new, it's still an affordable and available rifle scope, that may still be perfect for you.
The Vortex Crossfire II 2-7x32 came packaged nicely and securely in a Vortex Crossfire branded box. The packaging included a microfiber lens cloth, and a manual for the Crossfire II scope, as well as a manual for the Dead Hold BDC reticle.
Because the Crossfire line of scopes is third from the bottom tier of Vortex scopes, just above the Copperhead and Sonora lines of scopes, we weren't sure what to expect. We knew, or at least had hoped, that Vortex would not sell a bad scope, but we were skeptical about what Vortex could offer in a scope with a $129 purchased price, and our hopes weren't too high.
Right out of the box, we were pleasantly surprised by the Vortex Crossfire II 2-7x32. It has the fit and finish you would expect from Vortex, but couldn't imagine you could get at the price point. The scope feels durable, has a solid matte black finish, clear glass, a sharp second focal plane reticle, and the turrets can be adjusted without tools.
Nothing about the Crossfire II would have you think it is a budget scope. We chose the 2-7x version of the crossfire with a reticle that is not-illuminated, so we can't speak to reticle illumination on the Crossfire series of scopes. However, we have used a Vortex Strike Eagle 1x6 for years, and it's an awesome scope, with an awesome reticle.
Vortex Crossfire II – Field Tests
We mounted the Vortex Crossfire II 2-7x32 on an AR-15, chambered in 223 Wylde, with high profile quick detach rings by UTG. When the AR-15 isn't being used product testing or predator hunting, the Crossfire II can quickly be removed and replaced by a Bushnell TRS-25.
Between the high profile rings, 3.9″ eye relief of the Crossfire II, and the ample mounting options of the AR-15 Picatinny rail, it was easy to achieve a comfortable cheek weld, and quickly get the reticle on targets.
To sight in the Crossfire II scope, we set up 3 Birchwood Casey 6 inch reactive targets. The targets were ranged at 25 yards, 50 yards, and 100 yards.
We took two shots at 25 yards to see where the point of impact was and then made appropriate adjustments. The turret caps on the Crossfire II are easy to remove by hand, and adjustments were also easy to make without tools. Each 1/4 MOA turret adjustment made an audible and tactile click. The tactile clicks could have felt stronger, or slightly less spongy, but they were easy enough to detect, and matched the MOA numbers on the turrets. So there was never any doubt about the adjustments that were made.
We took our third shot at 50 yards, made zero adjustments, and then finished zeroing at 100 yards. Sighting the Crossfire II was one of the easier sighting experiences we've had, largely due to the clear glass, sharp second focal plane reticle, and easy to adjust turrets, but also likely due to the low recoil generated by our AR-15 compensator and light predator rounds. We didn't used a lead sled, although it would have been nice.
The scope held zero during the rest of our shooting, and made reaching out on targets very enjoyable for the rest of the afternoon.
Vortex Crossfire II – Critical Observations
Outside of a larger objective lens, which has more to do with cost than it does being a fault of the Crossfire II, we don't have any real complaints about the Crossfire II. It's hard to be critical and nit pick a scope that offers such great value and performance for the price point. Any improvements to the Crossfire II already exist in Vortex's higher tier Diamondback, Viper, Eagle, and Razor lines of scopes.
Vortex Crossfire II – Conclusion
Its by no means a new product offering, but dollar for dollar, you'd be hard pressed to find a better scope for the same price. The Vortex Crossfire II is one of the best budget optics in the $100 to $150 range, backed by one of the industries best warranties. Under the $100 dollar mark, you may look at the popular UTG bug buster, but for another 20 dollar bill, you are unlikely to be disappointed with the better Crossfire II.
Tags: crosfire II, optics, scope, vortex
Comments