Vortex Strike Eagle Gen 1 Upgrade?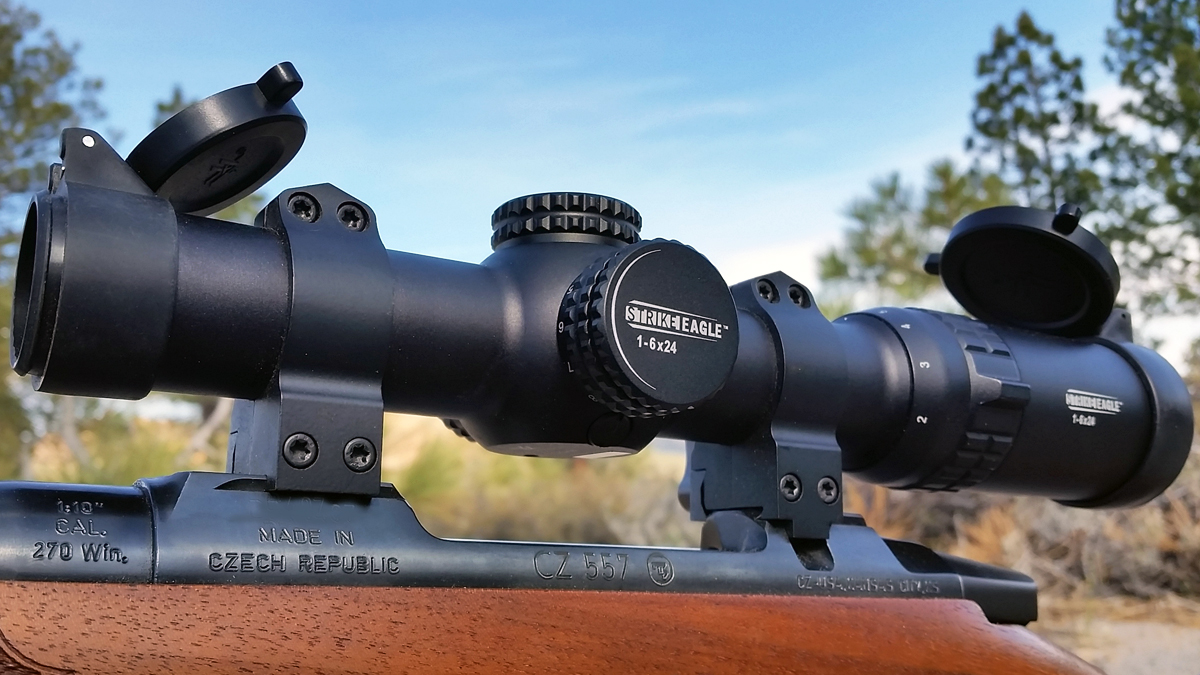 Photo Credit: Keith Knoxsville
Objective Lens Diameter
|
24mm
Tube Size
|
30mm
Weight
|
17.6 ounces
Magnification
|
1x-6x
MOA Adjustment
|
.5 MOA
Eye Relief
|
3.5 Inches
Illumination
|
11 Levels. No NV Compatibility
Mount
|
None. Requires a Picatinny Rings or Cantilever
Battery
|
2x CR2032
Battery Life
|
~150 hours
Waterproof
|
Waterproof, and Fog Proof, Nitrogen Purged
Country of Origin
|
China
Warranty
|
Unlimited, Unconditional, Lifetime
Includes
|
Flip Caps, Microfiber Lens Cloth
Price
|
$299
Vortex updated the Strike Eagle line of scopes with a second generation, but is the Vortex Strike Eagle Gen 1 still worth it? Or should you be in a hurry to upgrade?
Our experience unboxing the Vortex Strike Eagle 1-6x24 was nothing short of what you'd expect from Vortex. We have a lot of experience with Vortex scopes. We've had the opportunity to use the Razor, Viper, Diamondback, Crossfire, and Strike Eagle series of scopes from Vortex. Many of our hunting rifles are adorned with Vortex optics.
We have unboxed quite a few Vortex rifle scopes, as well as binoculars, and spotting scopes, and unboxing the Vortex Strike Eagle was no different. The Strike Eagle was packaged in a nicely branded box, with adequate protective foam materials. The box also contained a manual for the scope, as well as a manual for the AR-BDC Reticle.
Fit and finish were of the highest high quality, just like all of the Vortex scopes we've ever had in our hands. The Vortex Strike Eagle 1-6x24 uses common 30mm rings, or a Cantilever mount intended for 30mm tubes.
The 3.5 inch eye relief makes it easy to see through the scope and maintain a comfortable cheek weld without having to crane your neck forwards or backwards. The glass on the Strike Eagle is very clear, and the AR-BDC reticle is very crisp.
Vortex Strike Eagle Gen 1 in the Field
The Vortex Strike Eagle 1-6 lives on a CZ bolt action rifle, set up specifically for bear and big mule deer hunting in a strange variety of thick brush.
Yes, the reticle is designed for .223/5.56, but if you put your chronograph data into a great little ballistic calculator app called Strelok, select your scope mount height, projectile weight, B.C and a couple other data points, you'll get reliable hold overs for the reticle sub tensions.
The close combat application with the ability to zoom up to 6x, made the strike eagle a perfect optic for a bear rifle, where sight lines are short, and a opportunities fast fleeting.
A throw lever for faster magnification manipulation, would have been nice on the Gen 1, but Vortex realized that, and did add a throw lever to the Gen 2.
The Gen 1 was easy to sight in with the solid elevation and windage turrets. After the initial sighting, the scope has seen a lot of miles, and some bumpy travels. Years later, season after season, the scope has held a perfect zero.
During many seasons of hunting, the illuminates reticle has provided a greater level of confidence during early morning and late evening hunting hours. The illumination is sharp, and the adjustment knob makes it easy to dial up or down the level of brightness.
Vortex Strike Eagle Gen 1 Conclusion
There is no great reason to be in a hurry to ditch the Gen 1 Vortex Strike Eagle for a Gen 2. Spending more money on a new optic, to basically get the same optic with a slightly better reticle and a thread-in throw lever, just isn't high on our to-do list. Aftermarket throw-levers can be used on the Gen 1 to make it easier to dial the magnification, giving you even less of a reason to upgrade it.
Maybe price is not an issue. If so, consider something like the Razor Gen 3. The Razor Gen 3 is more compact, lighter weight optic, and provides 1x-10x magnification. However, it is also a couple thousand dollars, not a couple hundred dollars. In the more affordable range of optics, the Strike Eagle Gen II would be a good first buy, but not so much better for folks that currently own a Gen 1, that it would make tons of sense to replace it.
Tags: optics, scope, strike eagle, vortex
Comments